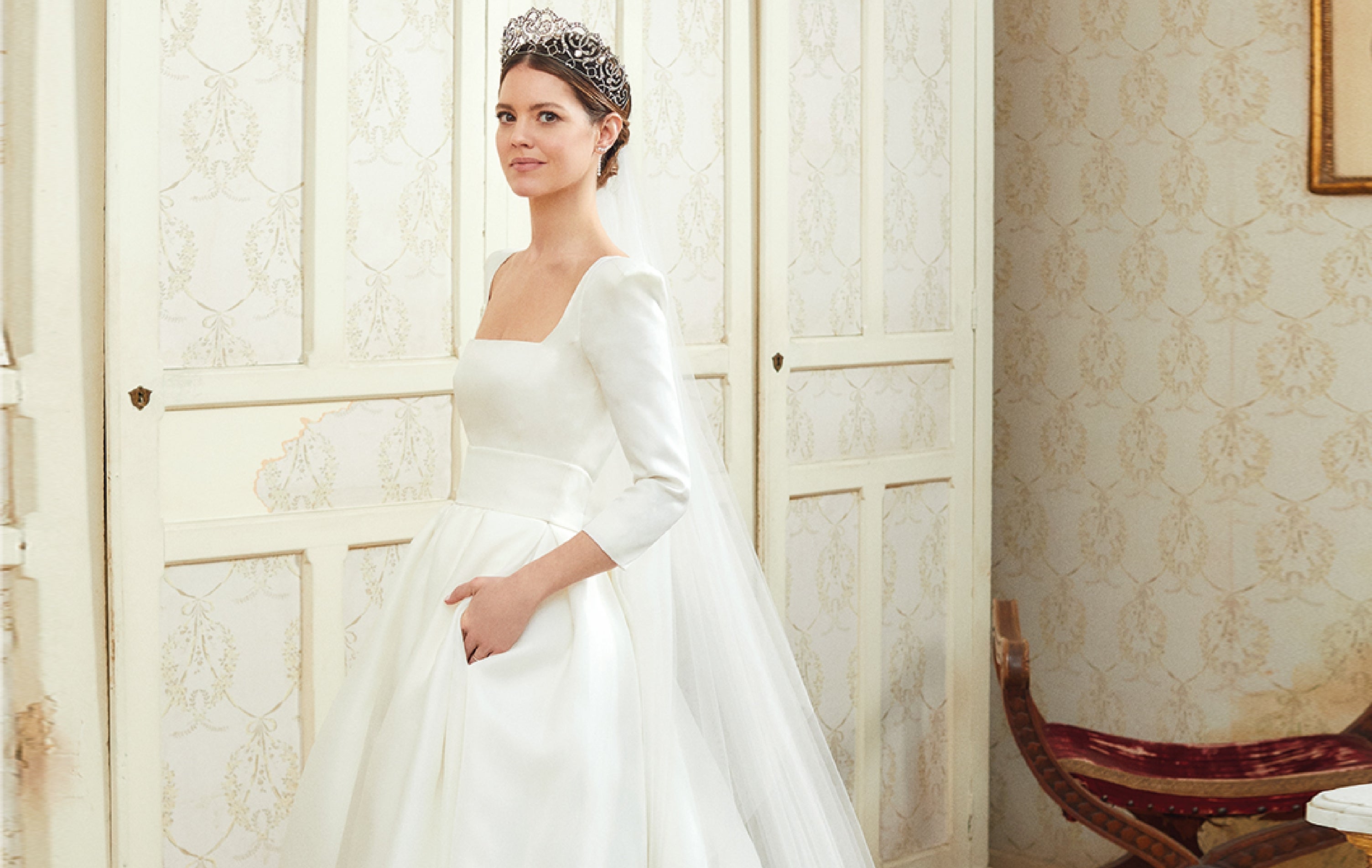 Royalty Wedding Dresses for Elegant Brides
Hailed as the 'wedding of the year,' Spanish high society was out in full force to celebrate the marriage of Isabelle Junot, whose father was once married to Princess Caroline of Monaco, to Álvaro Falcó, the 4th Marquess of Cubas.
The entirety of Spain had their eyes on her delicate wedding dress, which was crafted by Pronovias' Atelier from the Pronovias haute couture collection. Tailored with the finest silk organza, the gown featured an iconic ballroom silhouette, a square, Regency-inspired neckline, and a wide sash waistline. Junot's gown, complete with a cathedral-length train, made a royal and dramatic entrance.
Royal bridal dresses crafted by Pronovias' Atelier
Every single royal bridal dress crafted by Pronovias Atelier is handmade by expert seamstresses in our maison in Barcelona, using only the finest fabrics and high-quality laces from France and Italy. Walk down the aisle or celebrate at your reception in a stunning wedding dress – a unique, one-of-a-kind gown tailored and customised with your preferences and specific measurements at the forefront of the custom dress-making process.
To ensure that each gown displays royal and exquisite qualities, Alessandra Rinaudo, Pronovias' chief artistic director, oversees the creation of every single crafted gown. This ensures that every bride-to-be, including Isabelle Junot, has an extraordinary experience. This experience allows brides to witness the dress they have always dreamt of unfolding before their very eyes. The Haute Couture collection, meticulously crafted by Pronovias Atelier, is intertwined with the aesthetic and detailing of royal wedding gowns, due to the prestige and timeless nature shared by both of these designs.
Popular wedding accessories worn by royalty
Brides of royal status have been accentuating their royal wedding gowns with the necessary accessories, adding an extra touch of regal essence and glamour to their bridal ensembles. Whether monarchical brides choose to embellish their hair with delicate headpieces, prefer an elegant style with a pair of chic earrings, or simply desire to let their royal wedding outfits speak for themselves with minimal to no accessories, they are guaranteed a custom look that will be remembered by everyone for years to come.
Below, discover a variety of luxury accessories worn by royalty over the decades:
1. An elegant bridal bouquet should align with and reflect the overall wedding theme. When choosing a bouquet, it's crucial to consider the gown's style, even if you opt for a Cinderella-style royal wedding gown. Throughout historical grand weddings, symbolic themes have significantly influenced bridal floral arrangements. These traditions bestow the special day with timeless significance, harmonising with the desired aesthetic of both the wedding and the bridal ensemble.
2. A favourite accessory among royal brides has consistently been a delicate veil, which has graced a multitude of the most renowned wedding events throughout history. Drawing from recent highlights in the royal wedding culture of 2018, Meghan Markle elegantly walked down the aisle at St. George's Chapel, Windsor Castle, adorned with an intricately embroidered lace wedding veil. This veil featured meticulously crafted flowers symbolising the Commonwealth. Another illustrious example embedded in royal wedding history is Princess Diana's 25-foot embroidered lace veil, an embodiment of extravagance and drama as she exchanged vows in 1981 at St. Paul's Cathedral in London.
3. As a bride, adorning a pair of gloves with a royal wedding dress can serve as a practical and stylish accessory, providing the perfect finishing touch. When it comes to royal weddings and bridal gloves, they serve as popular accessories, offering formal elegance for ceremonial purposes and when shaking hands with officials and guests. Gloves for regal nuptials also exude a timeless quality, enhancing the bride's undeniable glow by adding an extra layer of warmth that creates a balance with the chosen wedding dress and other accessories.
A regal reception outfit transformation
Nothing exemplifies regality quite like a second outfit tailored for the wedding reception. Isabelle Junot embraced this time-honoured tradition by donning a splendid two-piece ensemble — a midi-skirt paired with an exquisite crop top — both masterfully crafted by Pronovias Atelier. Fashioned from an opulent blend of flocked tulle and intricate French lace, the ensemble boasted raglan sleeves, an embellished waistband, and a gentle, graceful fit that accentuated her regal air.
This ensemble exuded a contemporary allure, deliberately juxtaposed against the grandeur of her wedding gown, effectively encapsulating the two paramount moments of her dream-filled day. The opulent reception took place within the walls of an ancient palace, graced by the crème de la crème of Spanish society.
High-quality and luxury royal wedding dresses
For brides desiring the highest level of quality in their bridal ensemble, explore the Marchesa for Pronovias line of wedding dresses, crafted in collaboration with the world-renowned NYC couture house. This collection, designed with signature details such as corset bodices and ruffled skirts, draws inspiration from the Spanish city of Seville. It presents exquisite wedding dresses that promise undeniable glamour on your special day. Alternatively, if you prefer a distinct royal-inspired wedding dress, our selection of princess wedding gowns seamlessly embodies regal themes, featuring fitted bodices and voluminous skirts that elegantly flow outward.
From minimal elegance to extravagant bridal silhouettes, royal-style wedding dresses are ideal for any bride-to-be seeking to feel like royalty on her special day.
Draw inspiration from the Pronovias Atelier and Haute Couture Collection as you choose a high-quality and luxurious dress that will etch its place in history.