Are you going to be a mother of the bride?
Congratulations! On your daughter's big day, your role is an important one. On your daughter's wedding day you will be expected to be the perfect hostess, sparkly and social, and appear in many photographs for which you will want to look your best.
When choosing a Mother of the Bride dress, there are a few things to keep in mind.
Firstly, your outfit doesn't need to be the same color as the bridesmaid's dress, but keep in mind tonality when you are photographed together as a group. Comfort is also a big consideration, as you will be moving around greeting all guests and possibly fixing any last minute catering or seating glitches.
When you go shopping for your mother of the bride dress, take along your daughter. This is a precious opportunity to spend quality time together before her (and your) life changes forever.
A Floor Length Dress For The Mother Of Bride Look
A floor-length mother of the bride dress creates a glamorous and elegant sartorial statement. While this won't suit all types of ceremonies (for a beach or garden wedding you should probably consider a less-formal style) indoor, evening receptions present a rare opportunity to dress in head-to-toe glamour!
Choose a style with a fitted bodice and flowy or draped skirt for the most flattering silhouette, and the three-quarter to long sleeves in a fabric that is lightweight and breathes.
Boat necks and modest V-necks can minimize a generous décolleté, and don't forget the wonders of shapewear. (Bring it with you when shopping for your gown).
Choose your shoes well in advance and have the hem length adjusted accordingly.
A Fit & Flare Mother of the Bride Gown
If you want to go for a fitted look, dresses with a fit & flare are fantastic for fuller figures!
Fit and flare dresses contour your body with a snug fit over the bodice and hips before gently flaring into the skirt. Dress up a minimalist fit & flare dress with statement jewelry, or for something more feminine, choose one with lace applications.
A Short & Chic Mother Of The Bride Dress
Tea-length mother of the bride dresses are the go-to choice for garden and day weddings, and are perfect for accessorizing with a hat.
Shoes are key with knee-length dresses, so think about heel height and style when you choose your dress.
For garden and outdoor weddings, a print and a bit (but not too much) of feminine frill or flounce can look colorful and elegant. For urban and indoor weddings choose something that has more of a chic cocktail look that will segue effortlessly from day to evening.
A Classic Mother of the Bride Dress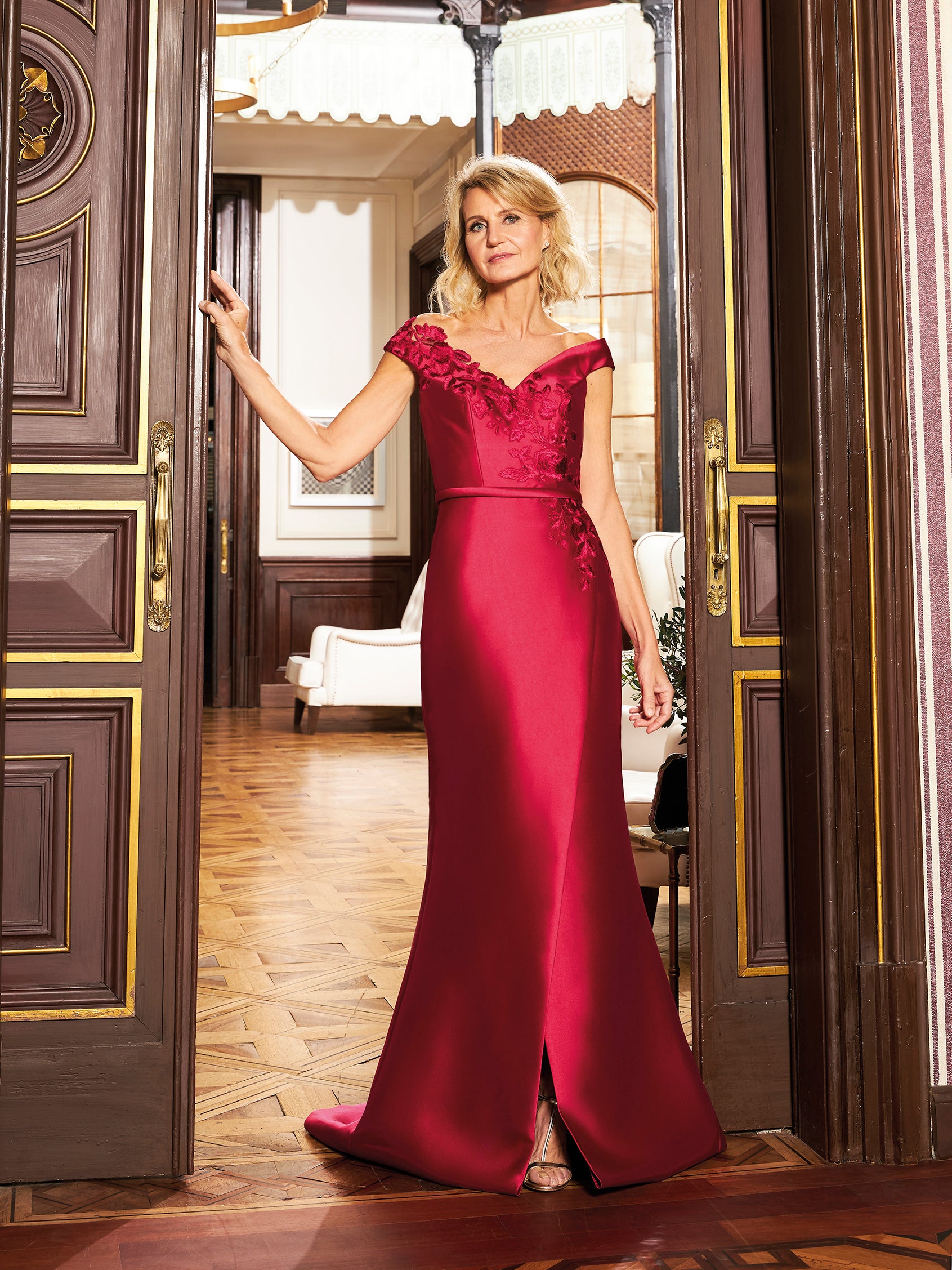 Is there is classic mother of the bride look? These days, it's hard to say. But if we had to choose one, it would be a floor-length A-line gown in mikado.
Why? Because this is an elegant, iconic look that transcends time and trends.
An A-line silhouette suits all figure types, from petite to plus-size. And because mikado fabric has a touch of haute couture in its luxurious sheen that picks up the light and makes every woman glow with confidence.
For more inspiration, see the full collection of mother the bride dresses from The Party Edit!